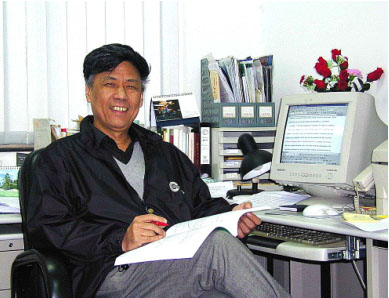 Name: CHENG, Jia-an
Title: Professor of Zhejiang University
Mailing address: Institute of Insect Science, Zijingang Campus, Zhejiang University, Yuhangtang Road 866, Hangzhou 310058, China
Telephone: (86-571) 88982712
Fax: (86-571) 88982712
E-Mail: jacheng@zju.edu.cn
Major Research Interests:
Population/ community ecology and management of insect pests in rice ecosystem

Application of information technology for forecasting and management of pests

Urban entomology and plant quarantine

Tritrophic interactions between plants, herbivores and parasitoids

Development of functional genes from beneficial insects

Ecological risk assessment of transgenic plants
Research Activity:
Main research activities have been focused on ecology and pest management. The main target insect species studied include rice planthopper (small brown planthopper, brown planthopper and white-backed planthopper), rice stem borers (yellow stem borer and striped stem borer), rice leaffolder, rice green leafhopper, rice weevil and rice water weevil. Since 1980's, more efforts have been put on using new technology, including chemical, molecular and information technology, to understand population dynamics and tritrophic interactions; develop pest forecasting systems and methodology for evaluation of natural predation in rice ecosystem. In the recent years, we are also conducting research on urban entomology, plant quarantine and molecular entomology. A computer system for domestic quarantine has been developed and a computer system for international plant quarantine is under development, cooperating with the University of Queensland, Australia. Several genes related to bioactive protein/peptides have been cloned and expressed.
Major research projects in recent years:
Molecular adaptation of insects to toxin chemicals and its mechanism

Development of remote diagnosis system for agricultural pests

Comparitive studies on biological and ecological mechanisms for outbreaks of three planthopper speices in rice ecosystem

Development and application of decision support and training aids for vegetable pests
Selected Publications:
Ding, Mo, Gao QK, Mo, JC, Cheng JA. 2007. Construction and validation of an insecticide resistance-associated DNA microarray. J. Pesticide. Science. 32 (1): 32-41

Bai, YY, Jiang, MX, Cheng, JA. 2006. Effects of Cry1Ab toxin to Propylea japonica(Coleoptera: Coccinellidae) trough its prey, Nilaparvata lugens Stal (Homoptera: Delphacidae), feeding on transgenic Bt rice. Environmental Entomology 35(4): 1130-1136.

Bai, YY; Jiang, MX; Cheng, JA. 2005. Effects of transgenic cry1Ab rice pollen on fitness of Propylea japonica (Thunberg) JOURNAL OF PEST SCIENCE, 78 (3): 123-128

Jiang, MX; Zhang, WJ; Cheng, JA. 2004. Termination of reproductive diapause in the rice water weevil with particular reference to the effects of temperature APPLIED ENTOMOLOGY AND ZOOLOGY, 39 (4): 683-689

Jiang, MX; Cheng, JA. 2004. Effects of manure use on seasonal patterns of arthropods in rice with special reference to modified biological control of whitebacked planthopper, Sogatella furcifera Horvath (Homoptera : Delphacidae) JOURNAL OF PEST SCIENCE, 77 (4): 185-189

Zhao, WC; Cheng, JA; Chen, ZX 2004. Development of a monoclonal antibody to detect predation of the brown planthopper Nilaparvata lugens (Stal) INTERNATIONAL JOURNAL OF PEST MANAGEMENT, 50 (4): 317-321

Jiang, MX; Zhang, WJ; Cheng, JA. 2004. Reproductive capacity of first-generation adults of the rice water weevil Lissorhoptrus oryzophilus Kuschel (Coleoptera : Curculionidae) in Zhejiang, China JOURNAL OF PEST SCIENCE, 77 (3): 145-150

Zhu, ZR; Cheng, J; Jiang, MX; et al. 2004. Complex influence of rice variety, fertilization timing and insecticide on population dynamics of Sogatella furcifera(Horvath), Nilaparvata lugens (Stal) (Homoptera : Delphacidae) and their natural enemies in rice in Hangzhou, China JOURNAL OF PEST SCIENCE, 77 (2): 65-74

Jiang, MX; Cheng, JA 2003. Feeding, oviposition and survival of overwintered rice water weevil (Coleoptera : Curculionidae) adults in response to nitrogen fertilization of rice at seedling stage APPLIED ENTOMOLOGY AND ZOOLOGY, 38 (4): 543-549

Jiang, MX; Cheng, JA 2003. Interactions between the striped stem borer Chilo suppressalis (Walk.) (Lep., Pyralidae) larvae and rice plants in response to nitrogen fertilization ANZEIGER FUR SCHADLINGSKUNDE-JOURNAL OF PEST SCIENCE, 76 (5): 124-128 OCT 2003

Jiang, MX; Cheng, JA 2003. Effects of starvation and absence of free water on the oviposition of overwintered adult rice water weevil, Lissorhoptrus oryzophilus Kuschel (Coleoptera : Curculionidae) INTERNATIONAL JOURNAL OF PEST MANAGEMENT, 49 (2): 89-94 APR-JUN 2003

Lou YG, Cheng JA 2003. Role of rice volatiles in the foraging behaviour of the predator Cyrtorhinus lividipennis for the rice brown planthopper Nilaparvata lugensBIOCONTROL 48 (1): 73-86

Lou YG, Cheng JA 2003. Role of rice volatiles in the foraging behaviour of the predator Cyrtorhinus lividipennis for the rice brown planthopper Nilaparvata lugensBIOCONTROL 48 (1): 73-86

Cheng, J.A. Zhao, W.C., Lou, Y. G. & Zhu, Z.R. 2001. Intra- and inter-specific effects of the brown planthopper and white backed planthopper on their population performance. Journal of Asia-Pacific Entomology 4(1): 85-92L

Lou Y.G. and Jiaan Cheng. 2001. Host-recognition kairomone from Sogatella furcifera for the parasitoid Anagrus nilaparvatae, Entomologia Experimentalis et Applicata. 101: 59-67